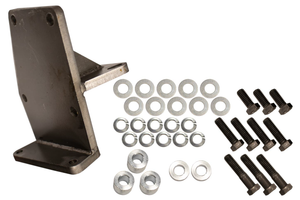 Rust Buster 1976-1986 Jeep CJ5, CJ7 & CJ8 HD Steering Box Brace RB1008
RB1008
Fits 1976 - 1986 CJ7 and CJ8/Scrambler
Fully replaces factory steering box mount
Made from 3/8" thick, Raw cold-rolled steel
Perfect for painting to match

Drilling is required to install

Instructions are

 

required

 

for drilling template



For those with larger tires on their CJs, there's a common issue: the steering box sometimes gets detached from the driver side frame rail due to the added strain. A solution to this problem is the Rust Buster Heavy-Duty Steering Box Bracket.
This upgraded bracket is much sturdier than the standard ones. Made from a solid 3/8" thick steel plate and enhanced with welded gussets, it's built to last. It also has a protective e-coat and a black powder coat, which prevents rust and gives it a clean finish.
The bracket is user-friendly, coming with all the needed mounting hardware and clear instructions. It's a worthwhile addition for anyone planning on heavy-duty use of their Jeep CJ. Plus, it's backed by our Limited Lifetime Warranty, showcasing its quality.
For those who might be wary of the installation process, there's good news. The bracket comes with all necessary mounting hardware and comprehensive instructions, ensuring a smooth installation process.
So, if you're planning to hit the trails hard with your CJ, particularly with those taller tires, investing in this Heavy-Duty Steering Box Bracket is not just a good idea—it's a necessity. Don't wait for the unexpected breakdown in the middle of nowhere. Take preventative measures and fortify your Jeep CJ with the strength it deserves. And to sweeten the deal, this product offers peace of mind, thanks to our Limited Lifetime Warranty, emphasizing our confidence in its durability and performance.
Inventory Last Updated: Sep 28, 2023
---
We Also Recommend
---